One of the most liberating things about starting our own orthopaedic company was the opportunity to tailor-make our own bag of products.  The freedom to assemble a LEDA Orthopaedics portfolio, which we know will appeal to the surgeons we are privileged enough to work alongside.
We strive to offer exceptional levels of customer service and, in doing so, we are fortunate to receive candid feedback, which is invaluable to our decision-making processes when it comes to selecting new product ranges or novel orthopaedic solutions.
Of course, every manufacturer or supplier we partner with, has a choice of which distributor they entrust with the responsibility of carrying their line.  For this reason, we are especially proud to represent them in the UK and sometimes further afield.
I'm writing these words from Orlando, Florida, where we are attending the Skeletal Dynamics 2019 Global Sales Meeting as their international guests. Educate, Empower, Excite is the conference strapline and we are certainly eager to share with our employees, sales agents and customers, all of the innovative orthopaedic products that Dr Jorge Orbay and his team tirelessly continue to develop.
One such product that has been receiving an overwhelmingly positive response back home over the past few months since the autumn BSSH meeting in London is their Geminus Distal Radius System's Dorsal Spanning Plate (DSP).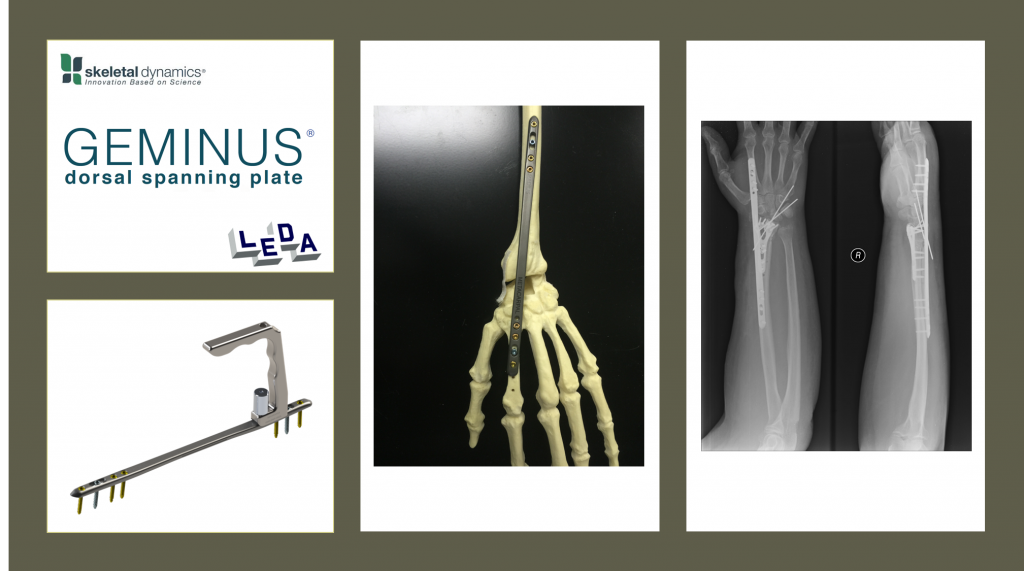 The technique of employing a wrist-spanning plate for polytrauma or lower-demand patients is well acknowledged by the hand society and trauma surgeons alike, but it was interesting to see the practice evaluated by specialist registrar Ms R Begum at the BSSH congress.  She reviewed the largely positive outcomes of 29 patients who had undergone wrist fracture surgery using a dorsal spanning plating method, but with either a standard multi-hole locking plate or an overly robust wrist fusion device.
The subsequent audience discussion concluded that the method works very well, but could be improved by using a plate designed for the job.  Which is where we would be able to offer the Skeletal Dynamics Geminus DSP.
Available in long (210mm) and short (160mm) variants, the DSP is low-profile, anatomical, pre-contoured and slim at the "waist".  It sits on the radial side of Lister's tubercle on the distal radius and is fixed to the 2nd or 3rd metacarpal, providing optimal hand positioning with hand extended and ulnar deviated.

This specifically designed titanium plate is favoured by hand and trauma surgeons who have utilised it, particularly when compared to general plating systems, as it is kinder to the tendons, comes with a radiolucent handle introducer, and has no holes in the middle of the plate (meaning bone/tissue ingrowth doesn't occur) making it easier to remove later if necessary.
As Adrian Chojnowski, consultant orthopaedic upper limb surgeon at Norfolk & Norwich University Hospital observes:
'The dorsal spanning bridge plate has become an acceptable method to deal with complex distal radius fractures. Whilst developed with high energy injuries in mind, often in the context of polytrauma, it has also found purpose in the complex osteoporotic fracture. This latter group of elderly patients are less able to tolerate internal fixators which may become loose prior to bone consolidation'
The DSP module drops straight into our Geminus distal radius system tray and shares common instruments. It's one of those little gems which we are delighted to be able to offer to our customers – a product they love to use to make their lives easier.