It's finally "Back2Skool" season. After a memorable summer of cricketing comebacks and political stalemates, the heatwave has abated, drizzle is beginning to collect in the cloudy sky, the clocks are preparing for their annual BST-to-GMT reversal and we can embrace the inexorable advance of autumn.
As the LEDA classroom bell rings out around the playground, the young budding orthopaedic surgeons, future medical device reps and burgeoning design engineers of the future take their places at the desks of destiny once more and reflect on a couple of the past few months' momentous educational events:
June: BESS, Harrogate
To mark the highly anticipated UK launch of Skeletal Dynamics' expanded upper limb portfolio, including the Align radial head replacement and the IJS internal joint stabiliser, there was no better place for LEDA to present these truly innovative elbow solutions.  Just before the event, we also took delivery of the "Trojan Horse" for fracture-dislocations of the elbow: the Distal Elbow Set.  This all-in-one kit includes plates, Reduct cannulated screws and all of the above elbow products.  5 systems, 2 trays, 1 company!

We used BESS as a platform to introduce the UK's elbow and shoulder surgeons to PANTERA, our novel answer to a very common orthopaedic problem, the proximal humerus fracture.  PANTERA has unique cross-elements which help to resist the collapsing forces of the shoulder joint, adding strength to the plating construct and improving the attachment of the lesser tuberosity for all-important blood supply.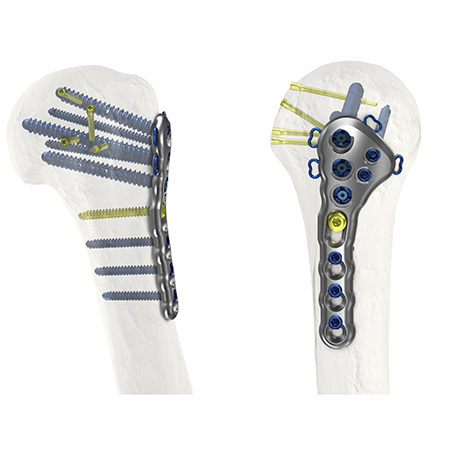 It was incredibly rewarding to receive so much positive feedback at BESS, and we look forward to Brighton next year, where we will be proudly hosting Dr Jorge Orbay as he visits the prestigious conference and helps us explain the benefits of his many upper extremity inventions.
July: The LEDA Bristol Cadaveric Hand Surgery Course
Another inaugural event for LEDA, as we hosted our first national cadaveric meeting in Bristol.  Working closely with course chairmen and pioneering proponents of CMCJ replacements, Raj Bhatia and Neil Blewitt, we put together a practical training programme aimed at hand surgery fellows, who would be given an opportunity to work with one cadaveric specimen per person, a rare treat in the world of professional surgical education.
Our invited faculty of Andy Hacker, Alistair Jepson and Elliot Sorene further enhanced the quality of teaching available to the delegates, who were able to quiz the experienced but down-to-earth expert panel on their philosophies and approaches to not just the Touch CMCJ prosthesis, but also the management of complex distal radius fractures with the Geminus volar plating system.   A session on scaphoid non-unions and intramedullary fixation techniques for finger trauma using the Osteomed HPS and Skeletal Dynamics Reduct systems completed the comprehensive agenda.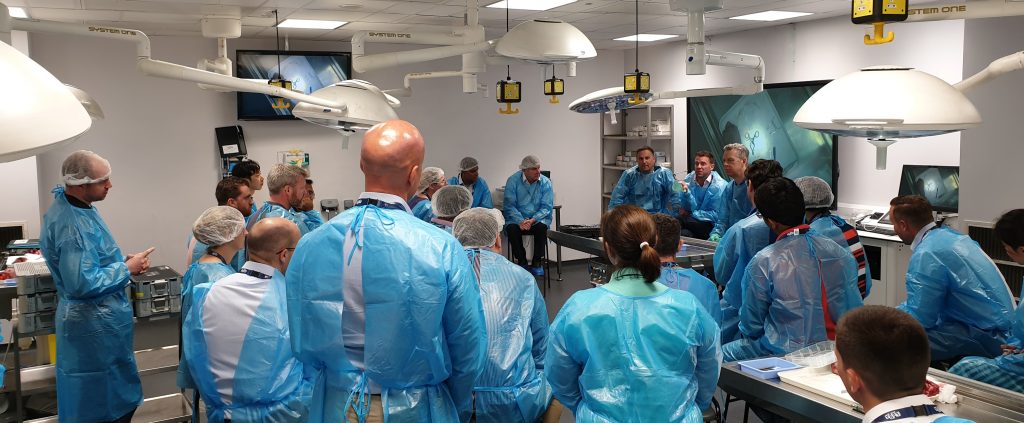 The regular interactions between faculty and delegates, with opportunities to discuss complex issues, was highly appreciated by all attendees and LEDA staff.
We enlisted the services of, and want to pay gratitude to Keith Lakin from Vertec, who was on hand throughout the meeting to provide real-time x-ray guidance with his Hologic Fluoroscan Mini C-Arm, and a huge shout out of thanks goes to Rob and all the staff at the Vesalius Clinical Training Unit in Bristol for making the day run super smoothly.
The subsequent feedback from the course attendees really blew us away and will help us further improve the course for 2020. Here are a few comments we received:
Excellent work by LEDA as always. Have definitely benefitted from LEDA's commitment to education and training.
Course and faculty were genuinely brilliant. Would love to be invited to further courses
Brilliant having cadaveric specimen each, could do one between two but personally I found having one to one was fantastic
We have been using the Geminus for a while now and it was useful to hear specific tips from the faculty.
I found the session very useful as the CMCJ prostheses is new to me and I quite enjoyed the cadaveric session as I was able to practice the actual technique of implantation. Looking forward to furthering my knowledge and skills with regards to this procedure
Good session. Limited ability to "fix" the scaphoid as elderly cadaveric specimen had a grossly abnormal scaphoid. But excellent to practice approaches and to use the image intensifier to assess screw fixation position
With BSSH just around the corner in Dublin next month, we are busily preparing new product launches and promotional events to share with our hand surgery friends.  We continue to offer regular CMCJ courses for the Touch dual-mobility carpometacarpal prosthesis in France, and whether it's cadaveric hands-on training, or surgical visitation that you prefer, we have a classroom for you. Every day is a school day at LEDA!