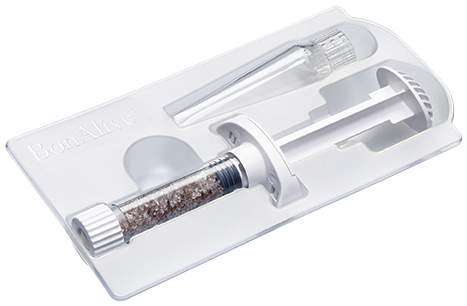 BonAlive granules
Features
Treat bone infections without local antibiotic
Bonalive® granules is a unique bone regeneration technology that naturally inhibits bacterial growth and stimulates bone formation.
The granules are a bone cavity filler intended for the resolution of bone infections, and for use in trauma and orthopaedic surgery
BonAlive granules
Features
Treat bone infections without antibiotics!
Bonalive® granules is a unique bone regeneration technology that naturally inhibits bacterial growth and stimulates bone formation.
The granules are a bone cavity filler intended for the resolution of bone infections, and for use in trauma, orthopaedic and spinal surgery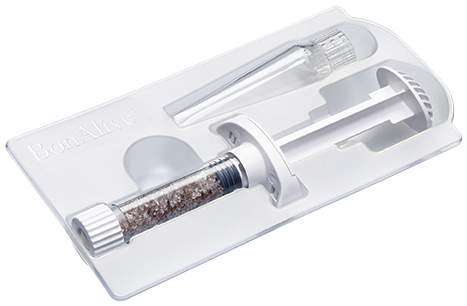 BonAlive granules
Bonalive® granules naturally inhibit bacterial growth in more than 50 clinically relevant bacteria strains, providing surgeons with a 1-stage osteostimulative* technology for bone infection treatment. Available in different sizes, the granules are designed to meet the needs of various surgical procedures.
Based on S53P4 bioactive glass, Bonalive® granules consist solely of elements naturally found in the human body. The granules naturally inhibit bacterial growth in both gram positive and gram negative bacteria, as well as Methicillin resistant bacteria, e.g. MRSA or MRSE.**
By supporting and facilitating the reconstruction of anatomical structures in the human body, the S53P4 bioactive glass gradually resorbs over time and is replaced by bone. This process can be post-operatively followed due to the granules radio-dense quality.
Indications
Bone cavity filling
Bone cavity filling in the treatment of chronic osteomyelitis
*non-osteoinductive
** Leppäranta et al. 2008; Munukka et al. 2008; Drago et al. 2013; Drago et al. 2014; Coraça-Huber et al. 2014.
INTERESTED IN BONALIVE GRANULES

One of the most liberating things about starting our own orthopaedic company was the opportunity to tailor-make our own bag of products.  The freedom to assemble a LEDA Orthopaedics portfolio, which we know will appeal to the surgeons we are privileged enough to work...
read more